The produce market is as diverse as it is changeable. That's why the Cryovac® fresh-cut produce packaging portfolio has a variety of solutions that can help you respond, adapt and thrive with fresh options for a healthy bottom line.
With a full complement of rollstock, lidstock, rigid trays, bags, shrink films, absorbent pads and thermoform options, we have the right selection of packaging materials to fit your needs from the packing line to the back of the house or to the retail shelf. All while keeping your produce at its freshest and most appealing.
Downloads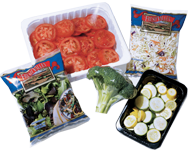 Produce Packaging for Food Processors
You worry about freshness. You worry about distribution. Most of all, you worry that the product your customers receive won't look like it did when it was packaged. Your Cryovac partners understand this, and that's why we offer a full produce packaging portfolio featuring absorbent pads, lidstock and trays, pre-made bags, rollstock and thermoform options. So, no matter what you're packaging, we've got the most comprehensive mix of permeability, durability and visual appeal to ensure your product stands out as the fresh choice
Produce Packaging for Foodservice Operators
Cryovac® packaging offers sophisticated solutions that keep fresh-cut fruits and vegetables vibrant, healthy and packed with flavor and nutrition. Our wide range of materials are here to meet the needs of individual products' respiration rates. Combine that with our selection of formats, and you'll see Cryovac® solutions are the healthiest choice in produce packaging. Plus, you'll get the added benefit of easy opening features and microwave options which will ensure that your back of house is running at its peak.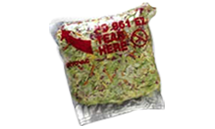 PD-961 EZ-Open Bag
Bags and rollstock materials for fresh-cut lettuce, cabbage, broccoli, cauliflower, carrots, and a host of other commodities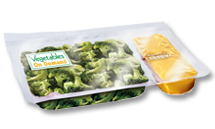 Microwaveable Rollstock
Simple Steps® and a wide variety of materials for microwave steaming of fresh vegetables
Simple Steps® packaging is available in foodservice-sized trays compatible with steam tables or heat lamps. It is also an ideal option for limited time offers, easy menu extensions and effort-less take-out opportunities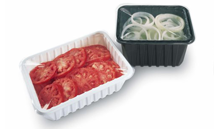 Lidstock Films and Trays
Lidstock and tray packages for diced and sliced tomatoes, onions, and a variety of other products.
Produce Packaging for Supermarket Retailers
We offer the largest selection of packaging materials that keep everything from apples to zucchini fresh, clean and protected. Not to mention their excellent shelf life. Bags, rollstock, films, lidstock, trays and absorbent pads, you name it, we have it – including microwaveable materials for convenience foods. Add printed films and sleeves for merchandising and branding opportunities, and you have the total package.
Not only will your customers love the produce, you'll love the bottom line. Our portfolio include materials for fresh-cut salads, broccoli and cauliflower florets, asparagus, zucchini and a variety of other fresh products
Bags
Microwaveable Tray options
Simple Steps®VSP
Simple Steps®Lidstock