Fish and Seafood Packaging
Recent innovations in vacuum bags, modified atmosphere and vacuum skin packaging for centrally packaged consumer units have opened new opportunities in seafood packaging for processors, retailers and foodservice.
We offer total systems solutions for bulk and consumer units of fresh, processed and frozen fish and seafood. All to help reduce distribution costs, enhance quality and convenience, extend shelf-life, and improve hygiene and traceability.
Downloads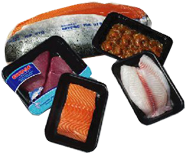 Fish and Seafood Packaging for Food Processors
Whether you want to package fresh or frozen, bulk or individual portions, Cryovac® seafood packaging helps ensure that your product arrives fresh and safe.
From our unparalleled permeable vacuum packaging to our modified atmosphere options, you'll know that quality life and distribution costs are favorable.
Vacuum Bag
Cryovac® Barrier Bag for Frozen or Processed Fish
Cryovac® 10K OTR Bag for fresh fish
MAP Case Ready
LID 1050 and barrier tray package

Cryovac® 10K OTR vacuum skin package
Cryovac® vacuum skin packaging barrier material

Barrier and non barrier laminate materials
Cryovac® Simple Steps® microwavable package
Fish & Seafood Ready Meals Packaging for Foodservice Operators
Simple Steps® packaging is available in foodservice-sized trays compatible with steam tables or heat lamps. It is also an ideal option for limited time offers, easy menu extensions and effortless take-out opportunities. And it's not just fast and easy, it's as fresh and tasty as if it came straight from your kitchen.
Simple Steps® Packaging
Imagine no take-out menu limitations. Imagine that you can simply and easily add new items, and rapidly introduce seasonal or promotional dishes. With Cryovac® Simple Steps® packaging your dream can be your reality. Items on your take-out menu could come from your supplier needing only re-heating before being carried home and enjoyed by your patrons.
Think about labor savings, product variety, quality, consistency, and food safety. Then think about how much simpler and more profitable take-out could become for you. You can offer the variety and consistency your customers want, without adding the capital investment you don't want. Take-out ready items also allow you to better manage peak demand periods without increasing production labor. And since you only sell what you serve, there's no shrink reduction or waste.
Simple Steps® packaging offers:
A lidded tray, sized for one entrée

Food comes pre-cooked, vacuum packaged for freshness

Three easy steps to re-heat and serve

Serve food directly from the tray

Highest tested concept in consumer testing
Fish and Seafood Packaging for Supermarket Retailers
Looking for quality and consistency? Nothing outperforms Cryovac® packaging systems to help seafood stay fresher longer and merchandise better. Whether it's case-ready or bulk fresh, Cryovac® packaging technology satisfies a variety of seafood applications.
It all adds up to delivering the kind of higher quality fresh seafood that has consumers coming back for more. Plus, there's nothing more convenient than Simple Steps® packaging for fish and seafood entrées. Tasty dishes go from microwave to table in minutes.
Case Ready Packaging for Fish and Seafood
Recent packaging innovations have opened new opportunities for modified atmosphere fish packaging in the seafood case for retailers. Case ready seafood is truly achievable with Cryovac® modified atmosphere packaging and vacuum skin packaging systems. These proven technologies have been adapted to meet seafood's special requirements, helping improve profitability and reduce shrink.
LID 1050 Lidstock and Barrier Tray Package
This lidstock-and-tray combination, together with gas flushing, creates the desired low oxygen modified atmosphere that substantially prolongs the freshness and quality life of refrigerated seafood products. During refrigerated storage and retail display, LID1050 materials remain fog-free and sparkling in appearance, providing a full view of the product and greatly enhancing the merchandising appeal.
Darfresh® Vacuum Skin Packaging
The product itself serves as the forming die; each package is finished to a smooth, skintight fit. This premium-looking package answers the retailer's need for appealing, self-service merchandisability.
Simple Steps® for Seafood
Cryovac® Simple Steps® microwavable package for prepared seafood entrees is distributed frozen and sold case ready in the same package. The product can be cooked at home in a microwave without removing it from its package. The technology gives shoppers a high-quality entrée that has undergone minimal handling. The unique self-venting Simple Steps® package eliminates the need to puncture ventilation holes or remove film before cooking in a microwave. Designed with "stay-cool" side handles and easy-open tabs, Simple Steps® enables entrées to go from the microwave to the dinner table without spills or burns.