When it comes to poultry options, consumers want convenience, value and quality. Cryovac® poultry packaging helps our customers deliver convenient value-added and differentiated products.
Our exceptional packaging materials provide strong, durable and dry poultry packages and are available with easy-to-open and individually portioned options. So, whether your poultry is fresh, value added or cooked, our packages mean your customers are happy.
Download Research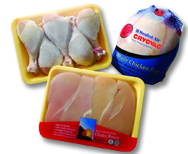 Poultry Packaging for Food Processors
You've got a variety of poultry to package – fresh and frozen; whole birds, parts and processed. And, you need a packaging partner that offers as many options. That's why we have an extensive range of poultry packaging materials and equipment to meet your needs.
Our exceptional packaging materials mean strong, durable and dry poultry packages that deliver quality eye-appealing products with extended quality life. And, we've developed easy-to-open and individually portioned options to satisfy your customers' needs. So, whether it's fresh, cooked, smoked or value-added, your poultry will arrive fresh and looking its best.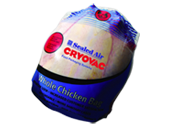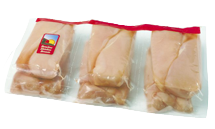 Bone-in and Boneless Parts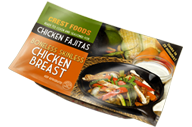 Vacuum Bags
E Bags with Chilled and Frozen Whole Birds
Films
Rollstock
Cryovac®Saddle Pack portion package
Darfresh®Vacuum Skin Package
Marinade on Demand
Rollstock materials for value-added poultry
Easy-Open Films
Pouches
Pre-made Pouches
VFFS Pouches
Poultry Packaging for Foodservice Operators
Poultry is a mainstay on your menus, and we know that ensuring that it is fresh and tasty is a critical factor in your success. That's why Cryovac® packaging technology locks in freshness to extend the quality life of your products.
And with less handling and reduced risk of cross contamination, you can rest assured you're serving nothing but the best. Plus we offer added-value solutions that help you manage consistency and labor costs. Cryovac packaging solutions mean happy customers – and that can mean increased sales for you.
Extended quality life across poultry types
Specifically created to maintain freshness and ensure your signature flavor, our superior vacuum packaging provides a virtually impermeable barrier.
Vacuum shrink bags extend the quality life of poultry
Fresh is in demand
In a recent USA survey, 56% of consumers said they prefer casual dining restaurants that serve fresh meat over frozen, and 41% of them said they're willing to pay more.
Hermetically sealed, leak-resistant pouches for poultry parts, reduces risk of cross contamination
Added Value packaging
Our innovative packaging solutions mean great taste, labor efficiencies and expanded menu options
With the Marinade on Demand package, poultry can go from plain to deliciously flavored with an array of marinades, and you can ensure that the taste is consistent time and time again
Cook-in bags and rollstock materials reduce labor costs and offer consistent flavor
Simple Steps®Packaging is an ideal option for limited time offers, easy menu extensions and effort-less take-out opportunities
Poultry Packaging for Supermarket Retailers
You're facing new challenges with the retail poultry case; that's why we're developing innovative packaging solutions to help you meet the demand. Families are busier than ever and looking for food products that are convenient and easy to use.
Singles and empty nesters want portioned packaging to avoid product waste. So, we offer the broadest and most distinctive packaging to meet these varied lifestyles and enable consumers to prepare quality meals simply and easily. All while ensuring our materials are the most reliable, so your case stays dry and appealing.
Saddle Pack package for bone-in and boneless parts – a new packaging concept for fresh chicken parts in ready-to-store, tear-off portion packs.
Cryovac® E bag is leak-resistant and has skin-tight shrink that enables shoppers to see the product better and dramatically improves shelf appeal.
No more mess and clean up from leaky cut-up chicken packages thanks to the superior qualities of Cryovac® SES stretch-shrink poultry films. Unique stretch-shrink properties provide definitive impulse seals that conform to the shape of the tray, producing a truly dry package. So, your cases, and your customers' hands, will be dry.
Simple Steps® microwaveable packaging is handy to have in the case for ready to cook and ready to heat products