Our complete line of case-ready packaging technologies for beef, pork, lamb, poultry, processed meats and seafood delivers unmatched performance.
We offer plain and printed high barrier films, absorbent pads and bags in a range of sizes and attributes that answer every need for modified atmosphere and vacuum packaging. There's no better way to deliver product consistency and variety in the meat case.
Downloads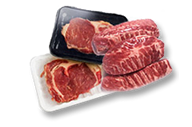 Case Ready Packaging for Meat/Food Processors
No matter how you look at it, case-ready is an attractive package for consumers and retailers alike. With a proven track record of solving technical difficulties like bloom and color problems, Cryovac® case-ready technology creates a superior looking package consumers can't wait to pick up.
We set our sights on nothing less than delivering a full range of products ready for the meat case. And, because it helps increase retailers' top and bottom lines, there's no surprise that case-ready meats have grown 15 percentage points in the last five years according to The 2007 National Meat Case Study (USA).
Barrier Trays
Cryovac® Solid Barrier Polypropylene Trays
Lidstock and Films
Cryovac® LID 1050/2050 Lidstock
Cryovac® LID 550P Peelable Lidstock
Cryovac Mirabella® lidstock and tray package
Cryovac Darfresh®Packaging
Darfresh® Bloom VSP
Darfresh® Barrier Packaging
Cryovac® 10K OTR Vacuum Skin Package for fish/seafood
Vacuum Skin Packaging for frozen fish/seafood
Vacuum Bags
BK-series bags for boneless roasts
TBG bags for ribs & bone-in roasts
Cryovac® 10K OTR bags for fresh fish
Case Ready Packaging for Supermarket Retailers
You know the benefits of case-ready packaging – increased in-stocks, extended quality life, excellent merchandising, more efficient labor – equal greater profits and customer satisfaction. And, starting a case ready program is easier than you may think.
Simply explore our extensive portfolio of packaging options that allow you to build exactly what you need, one item at a time. You won't find a better way to deliver product consistency and variety to your customers.
Extensive Case Ready Packaging Options
Whether bagged or trayed, modified atmosphere or vacuum packaging, our portfolio of case-ready products mean you have the option to customize your case across all meats.
Proprietary technologies like the Darfresh® family of packages or Cryovac Mirabella®packaging extend quality life, improve product appearance and visibility and provide clear product identification
Extensive array of barrier lidstock, films and trays that offer extended shelf life while providing a virtually leak-proof package with added value options like easy open features
Vacuum shrink barrier bags extend the quality life for beef and pork, locking in freshness and flavor
Case Ready Seafood packaging is now possible through recent innovations in vacuum packaging
Merchandising
Our packages allow you to benefit from proven merchandising successes like on package printing and value-added meats. According to recent studies on-package recipes help inform shoppers and can drive increased meat sales.